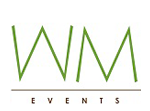 Atlanta, Georgia (PRWEB) May 23, 2013
Youve been buying organic foods, driving a hybrid and recycling for years now. But, is it possible to also make the most extravagant day of your life environmentally friendly? Absolutely, you can go green at your wedding! says William Fogler, principal of WM Events, based in Atlanta and Denver.
One of Foglers masterpiece green weddings took place at Pastures of Plenty, a picturesque venue outside of Boulder in Longmont, Colorado. The setting featured a tent and arbors decorated with flowers grown on the property. Since the menu was based on seasonal produce, only a menu landscape was selected in advance, but the actual dishes were created with the ingredients that were available at the time of the nuptials. The guests enjoyed a seated first course followed by a family-style meal from the Tuscan and Mediterranean landscapes.
Like this Colorado celebration, any wedding can honor a healthy, green lifestyle. From the save-the-date cards to the d