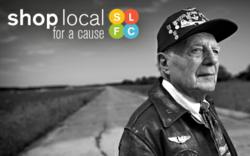 Lutz, FL (PRWEB) August 05, 2012
TGGF is a non-profit honoring WWII veterans and educating children and adults about their service. This organization is also a featured charity with the NALA, (http://www.theNALA.com), a small business association, launching Shop Local for Vets, the first campaign from Shop Local for a Cause. The NALA provides local business owners business growth opportunities through sales and marketing solutions while connecting to well-run charity organizations. Sir Grout is one of many of the NALAs businesses throughout the country participating.
Sir Grout owner, Greg Lynch bought the franchise after needing grout cleaning for his own home. Sir Grout stands out from other tile restoration companies because of their proprietary color sealant and the process they use to fully restore flooring. They use all Eco friendly products.

Greg Lynch supports the community in a variety of ways, from donating to JDFR (Juvenile Diabetes) to joining in their local walk in Tampa every year. Because his own father was a marine, Greg chose to participate in Shop Local for Vets. He commented, "I chose to participate in SLFC for the simple reason we need to remember and give back to those who have served our country and aided in us enjoying our freedom."
Please visit Shop Local for a Cause to learn more or to find local businesses participating on Saturday, August 18th. TGGF also has a Text to Donate number; one can donate $ 10.00 to The Greatest Generations Foundation today, by texting TGGF to 20222.
About Sir Grout

Sir Grout is a leading innovator in the floor care industry that recognizes the special needs of homeowners and businesses. Their proprietary cleaning methods and renowned ColorSeal process have set us apart from all companies in the floor restoration sector.
About NALA

The NALA (National Association of Local Advertisers), a small business association, is for local business owners offering new online advertising & marketing tools, great business benefits, education and money-saving programs, as well as a charity program.
Contact: the NALA

Tiffani Tendell

805.650.6121

ttendell(at)thenala(dot)com