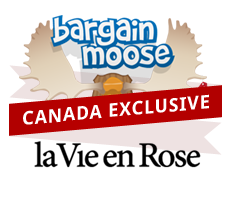 Winnipeg, MB (PRWEB) June 20, 2012
Starting this week, La Vie en Rose is launching a two month long campaign of biweekly coupons. Exclusive to the Canadian deal-hunting community Bargainmoose.ca, the lingerie retailer will be offering various percentage discounts and special shipping incentives to help shoppers and entice sales.
To kick off the promotion, Canadian shoppers are being offered a discounted shipping rate. Additional La Vie en Rose coupon codes will be announced in the following weeks. "We're excited to be running special offers for the coming two month period, exclusive to the Bargainmoose community," said Anna Waters, owner of BargainMoose.ca.
A recent survey showed that almost three quarters of Canadian shoppers wait on an item to go on sale before making a purchase. With over a third of shoppers using online coupons most of the time, both BargainMoosers and La Vie en Rose stand to benefit from the promotion.
"Helping our members save a few bucks is our main mission, and it's great to see more and more companies getting on board to offer this type of exclusive coupon code," Waters shared. She also admitted having a weakness for the coupons available her site. "I'll probably stock up on some swimwear for the summer. Like most of our members, I can't resist a bargain!"
This La Vie en Rose promotion is part of a larger trend on Bargainmoose, as the site has secured many exclusive coupon codes from major brand names. Roots, Lancome, Garage, The Shoe Company, and hundreds more retailers are currently offering exclusive discounts through the site.
"There are more exclusive deals from famous Canadian brands coming in the near future, but I cannot divulge the details yet until the offers are secured," Waters adds with a smile.
About Bargainmoose

Bargainmoose is a growing couponing community made up of many price-savvy Canadians. It hosts a wide range of coupon codes, promo codes, printable coupons, hot shopping deals, freebies and more.
About La Vie en Rose

La Vie en Rose is the leading lingerie retailer in Canada, selling lingerie, sleepwear, swimwear, and more, catering to all women aged 25-45. With over 155 boutiques Canada-wide, and more than 55 stores in the international arena, La Vie en Rose is continuing to expand on a global scale.