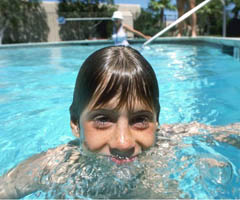 Lincoln, RI (PRWEB) June 21, 2012
Brutally hot temperatures have blanketed much of the country in recent days, leading many families to seek relief in public and private swimming pools. But pool-related accidents are a leading cause of death and injury for children, so Amica Insurance is sharing five important water safety tips.
Its important to never let children out of sight when theyre swimming, even if theres a lifeguard on duty, said Michael Gillerlane, a senior assistant vice president with Amica Insurance. It only takes a second for a tragedy to occur.
Nearly 400 children under age 15 drown in pools and spas each year and more than 5,000 others are treated for pool-related injuries, according to federal statistics.
The Consumer Product Safety Commission (CPSC) notes that drowning is the leading cause of accidental death for children under age 5. And more than 60 percent of all pool-related deaths and injuries occur in pools owned by the victims family or friends.
Parents and caregivers need to be sure their children are supervised whenever they are in or around a pool, Gillerlane said. And homeowners need to take special precautions to make sure their pools, including wading pools, are as safe as possible.
The CPSC and the American Red Cross offer these pool safety tips: