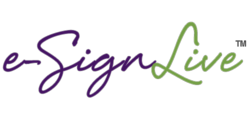 Montreal, QC (PRWEB) May 23, 2012
e-SignLive, the online, on-demand electronic signature service for mid-market and small businesses in compliance-driven industries, today announced that Insurance Management Group is using its electronic signature solution to collect signatures on all important and time sensitive documents.
In an effort to be a paperless organization, Insurance Management wanted to find a way to collect signatures without having to print, scan, fax and courier or deliver documentation between agents, customers and providers. As well, the solution needed to reduce risk and remain compliant with insurance standards without compromising customer satisfaction or security.
The insurance company determined e-SignLive was the right option after speaking to an e-SignLive representative who understood the industry, the companys unique needs and the products capabilities. e-SignLives unique and patented e-Witness audit assurance technology provides secure legal evidence and irrefutable proof of the execution of the financial transaction and the associated e-signed documents.
With e-SignLive, the guided e-signing ceremony and process workflow reduce not-in-good-order (NIGO) applications by 90 percent. Policies are properly filled and signed correctly the first time.
Insurance Managements sales agent Trever Stoffel uses e-SignLive for applications and cancelations for home, auto, motorcycle and boat insurance. Before, agents needed to follow up multiple times for completion. Not anymore. With e-SignLive its so easy. We check online to see whats been done to-date and when its completed, all we need to do is drag and drop the electronically signed documents to our CRM system.
The features and benefits that make e-SignLive the best choice for businesses like Insurance Management include: