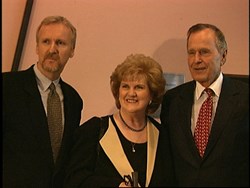 Los Angeles (PRWEB) December 10, 2013
RP International Spreads Holiday Cheer with 19th Annual The Eyes of Christmas Telecast For The Visually Impaired – Kicks-off with NBC Airing Frank Capra Classic Its A Wonderful Life, Audio Described by former US President George H.W. Bush Followed by Special Holiday Programming For The Visually Impaired On ION Media Network, WE, and Fox/KCOP in Los Angeles
Broadcast includes eye test for early detection of visual disorders and degenerative eye diseases.
19th annual The Eyes of Christmas stars Tom Hanks, Nichole Kidman, Celine Dion, Garth Brooks, Reba McEntire, Jay Leno, Sting, and U2, sharing music and holiday memories so the blind can experience the magic of holiday season.
This Christmas some of Hollywoods top stars, including Tom Hanks, Nichole Kidman, Celine Dion, Garth Brooks , Reba McEntyre, Jay Leno, U2, Sting and many others, will take part in The Eyes of Christmas international telecast on Christmas eve and morning, December 24th and 25th. This special holiday programming allows millions of unsighted children and adults an opportunity to enjoy the beauty of the holidays, through the eyes of Hollywoods top stars who share their own personal holiday memories of the season.
The Eyes of Christmas telecast, produced by RP International, the nations leading non-profit organization fighting degenerative eye diseases, will air on multiple cable networks, including ION Media Network, WE -Womens Entertainment Network and FOX-KCOP Los Angeles (check your local listings for days and times).The telecast follows NBCs 8 p.m. Christmas Eve airing of Frank Capras Its a Wonderful Life, also described for the blind and visually impaired, narrated by former President George Herbert Walker Bush and produced in TheatreVision by RP International.
This years Eyes of Christmas telecast is hosted by legendary sportscaster Vin Scully, will feature top celebrities personal holiday memories and Christmas songs, intercut throughout another holiday movie classic, Charles Dickens Scrooge, also narrated in TheatreVision, which describes the on-screen action in-between the actors dialogue, so the blind can experience the magic of motion pictures.
The Eyes of Christmas telecast also features footage of Christmas from around the globe described by Bob Costas, as well as Christmas music from Sting, U2, 98 Degrees, Christina Aguilera, Brian McKnight, Jon Bon Jovi, Kenny G, Natalie Cole and Vanessa Williams, as well as live performances from The Blind Boys of Alabama and Jos