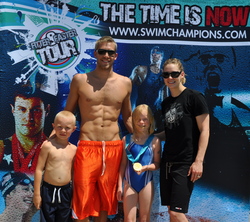 Miami Beach, FL (PRWEB) August 17, 2010
This past weekend, as the national swimming teams from over twenty countries made their final preparations for the Pan Pacific Championships that will take place beginning August 18th in Irvine, CA, Olympic medalists, Ian Crocker and Lacey Nymeyer hosted the Swim Champions' Fitter & Faster Tour's one-year anniversary events in Sullivan, IL and St. Louis, MO.
In its first year, the Fitter & Faster Tour has visited over sixty cities and featured over thirty elite swimmers who have won over sixty Olympic medals and hundreds of NCAA championships and All American honors. The events emphasize having fun with swimming and the great relationships and experiences that come with being part of the sport.
Coach Pike Hightower in Marietta, GA remarked, "The Fitter and Faster Clinic was nothing short of amazing! This is what a clinic is supposed to look like. I was told by many parents what a 'once in a lifetime' experience this has been."
The parents in Marrietta, GA will be happy to know that the founder of the The Fitter & Faster Tour, David Arluck, doesn't want experiences like this to be "once in a lifetime" anymore. Arluck's mission is "to make elite swimmers more accessible throughout the world while providing an amazing swimming experience for participants of all ages. We want to give age-group swimmers across America at least one opportunity annually to meet and swim with Olympic athletes."
One of the unique aspects of The Fitter & Faster Tour is that it is open to the public – swimmers do not need to be part of any specific swim team to register. This is an uncommon opportunity for swimmers who are part of teams around the county who are not in a position to host their own private event. Olympic gold medalist, Peter Vanderkaay who will be competing this week at the Pan Pacific Championships in Irvine, CA said, "The Fitter & Faster Tour really improves the accessibility of elite level swimmers for fans and in age-group programs particularly in years between the Olympics. I wish I had this opportunity when I was growing up."
Arluck says that the tour also provides more opportunity for athletes' sponsors such as TYR, Arena and Speedo to connect with consumers. Additionally, direct sponsors of the tour including SwimOutlet.com, Mitsubishi Photo Imaging, Ultra Swim, Antiwave, and Sprint Aquatics all help make the events the terrific experiences that they are by helping with promotion, providing free gifts to attendees and more.
The Fitter & Faster Tour continues on September 4th with multiple sessions in Chicago, IL. Then, over the following six weeks the tour will visit 17 additional with more events to be scheduled before the end of the year. To see when the Fitter & Faster Tour is coming to your city visit http://www.SwimChampions.com.
Olympians and other elite level swimmers who have hosted Fitter & Faster Tour events over the past year and who are scheduled to participate in upcoming events include Matt Grevers, Peter Vanderkaay, Megan Jendrick, Jenny Thompson, Mark Gangloff, Julia Smit, Ian Crocker, Christine Magnuson, Ben Wildman-Tobriner, Ous Mellouli, Lacey Nymeyer, Erik Vendt, Klete Keller, Maritza Correia, Matt Targett, Misty Hyman, Nick Thoman, Chloe Sutton, Josh Schneider, Will Copeland, Nick Folker and others.
About the Fitter and Faster Tour

Entry to Swim Champions' Fitter & Faster Tour events is available for participants of all-levels ages six through seventeen. The three-hour event includes a question and answer session for parents and kids with Olympians, autographs and photos, swimming technique and drills, an opportunity to hold Olympic medals, and gift bags. All registrants also receive a special 64-page full color magazine program that contains biographies and stories on all of the Olympic athletes on the Fitter & Faster Tour. Fitter & Faster Tour sponsors include SwimOutlet.com, Mitsubishi Photo Imaging, Ultra Swim, Antiwave, and Sprint Aquatics.
For more information on the tour, please visit http://www.SwimChampions.com.
About Arluck Promotions

Since 2002 Arluck Promotions has been helping companies and organizations develop integrated marketing campaigns through sports, fitness and wellness programs by leveraging the company's 40 Olympic legends, active Olympians and Paralympians.
For more information, please visit: http://www.arluckpromotions.com.
# # #
More Tyr Press Releases