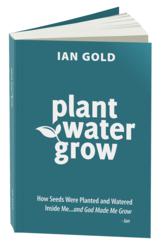 Los Angeles, CA (PRWEB) April 13, 2012
Unlike Ian Golds blocked punt for a touchdown on Monday Night Football during his NFL rookie season (see video attached), its the long list of indiscretions he committed throughout the remainder of his NFL careerpanicking through multiple pregnancy scares, contracting STDs, becoming addicted to sex and pornography, surviving several run-ins with death, encountering a woman who deceptively became pregnant, and being tempted to give in to her demand for money in exchange for an abortion, all this while blowing millions of dollarswhich he discloses in his new memoir that will, undoubtedly, forewarn members of the 2012 NFL Rookie Class, and captivate a national audience.
Gold's page-turning memoir takes readers on a roller coaster ride of emotions, as he describes in great depth and detail his once paralyzing sexual addiction, his waste of time, energy and resources, and his ultimate discovery of being useless to God.
Sure, I had money in the bank, beautiful women in my bed, million dollar cribs, and luxury carsbut even with all of that, I still felt empty inside, says Gold, when asked about the lifestyle he led during his years in the NFL.
Gold's memoir not only appeals to football fans and professional athletes, but it also appeals to readers, young and old, who have always wanted an inside look at the over-glamourized, immoral lifestyle that some professional athletes and entertainers choose to lead.
Since retiring from the NFL in 2008, Gold has traveled across the country and beyond in a effort to share his life's journey with others, founded http://www.whatarekidssaying.com, a website that offers kids and teenagers a international platform to express their hearts and minds through creative writing, produced a music album entitled, A Lions Heart, all prior to writing his personal memoir.
To learn more about "Plant Water Grow" and the journey Ian Gold is currently on today, visit: http://www.plantwatergrow.com. To order a copy of "Plant Water Grow" you may do so by clicking one of the following links: Barnes and Noble or Amazon.