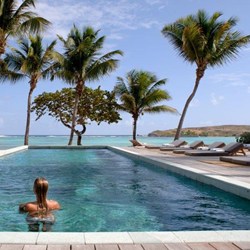 New York, New York (PRWEB) July 25, 2013
The Sereno Group, owner and operator of Le Sereno St. Barth, Le Sereno Villas and the soon to be unveiled Le Sereno, Lake Como in Italy, is pleased to announce the appointment of Samy Ghachem as the new general manager for Le Sereno St. Barths. Ghachem has accumulated more than 19 years of extensive experience in the travel industry with a strong focus in luxury marketing.
It is with great pleasure that we introduce Samy Ghachem as our new general manager, says Luis Contreras, owner of Le Sereno. Recognized for his dedication and commitment, Ghachem demonstrates an unparalleled level of service and professionalism that is perfectly aligned with the values we take such great pride in offering our guests. His proficiency and intellect in the travel sector will bring forth a fresh perspective to the luxury hotel industry and we couldnt be more delighted to have him on board.
With his ability to develop and cultivate enduring partnerships throughout the industry, Ghachem brings extensive experience in luxury branding, sales planning, marketing strategy, operations and team management to Le Sereno. His balanced exposure to both the supplier and agency side, as it relates to high-end luxury products and services, brings an exceptionally unique perspective to the organization.
After sustaining a career in the travel industry for nearly two decades, I am eager to diversify my knowledge and experience in the hospitality sector, says Samy Ghachem, newly appointed general manager of Le Sereno. Le Sereno offers guests the utmost luxury and highly acclaimed services and I look forward to offering my insight and unique industry perspective to such a distinguished company.
Transitioning from his most recent position as Managing Director of FROSCH-NY, a renowned travel management company, Ghachem was responsible for supervising all activities that pertained to finance, operations, sales, marketing, business development and vendor relations in the New York office. Prior to that, Ghachem spent 16 years working for Air France where he was responsible for the creation, launch and development of SkyTeam Alliance for both North and South America and then later responsible for managing the sales teams in the southern United States.
Ghachems appointment represents yet another milestone for the Sereno Group as the Le Sereno Lake Como property is scheduled for completion in 2015, at which time Ghachem will assume responsibility in managing both hotel locations. Located on prime lakefront property in the village of Torno, the hotel is just a few minutes-drive from the city of Como and less than 40 miles from the Milano-Malpensa airport. Reflecting its sister property in St. Barth, Le Sereno, Lake Como will be an intimate property with 30 oversized rooms, all boasting waterfront views and extraordinary attention to design, detail and service. The hotel will be positioned as the most stylish and private sanctuary among the lakes select group of resort offerings.
About The Sereno Group: With the addition of the Lake Como property and future expansions to be announced, The Sereno Group is the owner and operator of a small number of hotels at the upper echelon of the luxury market. Themes carried through each hotel include small, intimate number of rooms, locations in some of the worlds most coveted destinations, oversized rooms and suites, understated luxury, and exact attention to detail in design, service and amenities.
About Le Sereno St. Barths: Le Sereno is an intimate beachfront hotel with 37 suites and three, 7,000 square foot, four-bedroom Villas each with a private pool and garden. Inspired by the style and energy of St Barth, renowned Parisian designer Christian Liaigre has positioned Le Sereno as the most stylish and private sanctuary among the islands select group of hotels. Le Sereno stretches along 180 meters (600 feet) of sandy beach on the coveted Grand Cul de Sac, where virtually all of the suites and villas have a view of the turquoise lagoon. An impeccably trained, around-the-clock staff prides itself on anticipating each guest's every whim, with an array of laid-back luxury amenities and services. Opened in November 2011, The Spa at Le Sereno is the islands newest, full-service luxury spa featuring products and techniques by Ligne St Barth and the islands only true waterfront treatment suite. The Restaurant des Pecheurs specializes in fresh seafood simply and elegantly prepared. Other amenities include the Le Sereno Bar and Lounge, a freshwater swimming pool, and fitness center.