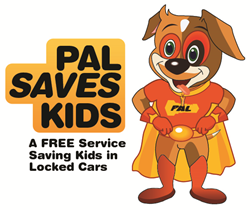 Lafayette, Louisiana (PRWEB) May 29, 2014
With the start of summer just around the corner, thoughts turn to the school years end, family vacations and swimming in the community pool. However, in addition to typical safety concerns that most parents share such as wearing sunscreen, bug bites and talking to strangers Pop-A-Lock, the countrys largest security company, wants parents and caregivers to be informed about:


The extreme and some times fatal dangers of locking a child in a vehicle during soaring summer temperatures;
Keeping latch-key children safe and secure during summer vacation while their parents are at work; and
Securing ones home while on summer vacation.
This three-part educational awareness series will focus on one topic per month starting in May and conclude in early August.
This month, in preparation for summer heat indexes, Pop-A-Lock will focus on the dangers of leaving children in unattended vehicles and educate caregivers about the companys PALSavesKids Program. Aimed to support local police and firefighters, the program educates parents to first call 9-1-1 and then call 1-800-Pop-A-Lock. The Pop-A-Lock technician nearest to the scene will leave all other priorities aside to arrive as soon as possible to unlock the child from the automobile.
This free community service was originally launched in 1991 and since then has saved over 350,000 children. The following are some daunting facts about the severity of leaving children in locked vehicles:
The Department of Earth and Climate Sciences at San Francisco State University cites that: Last year, 2013, there were at least forty-four deaths of children in vehicles; thirty-nine of which have been confirmed as heatstroke and five which, based upon the known circumstances, are most likely heatstroke.
Since 1998, media reports about the total 606 child vehicular heatstroke deaths shows the following circumstances: